My Super Fun Girls Getaway in the City by the Bay
Hey everyone! I just had the most amazing weekend exploring San Francisco with two of my best college friends, Hannah and Emily. Despite the chilly weather, we had an absolute blast soaking up the sights. Let me tell you all about our adventures!
Reuniting in the Hilly City
My friends and I were in desperate need of a girls reunion weekend since we all go to different schools now across SoCal. When brainstorming destinations, we decided on San Francisco since none of us had been before and it seemed so fun and scenic.
I booked us the most adorable rental apartment on Karta right in the heart of downtown SF that was modern yet homey. Perfect for our weekend! We all flew in early on a Friday morning, met at the place, claimed our beds, then immediately hit the streets ready to dive into everything that hilly San Fran had to offer.
Exploring Vibrant Neighborhoods
We decided to spend our first full day wandering around different SF neighborhoods to get a feel for the city's unique vibeand culture.
In historic Haight-Ashbury, we admired the beautiful Victorian "painted lady" houses lining the streets and popped into vintage boutiques to try on funky flared jeans and retro jackets.
Walking through the lively Mission District exposed us to the city's amazing street art scene. We were blown away by the huge, colorful murals painted on building walls in alleyways and the quirky galleries showing local art.
Strolling along the scenic waterfront Embarcadero taking in the views of the Bay Bridge was another highlight. It was so cool seeing the retro yellow trolley cars zoom by too. Each neighborhood had such distinct personalities!
Hiking Lush Parks with Epic Views
On our second day, we woke up early, laced up our sneakers and hiked the wooded trails through Lands End Park. The trails winding along the rugged cliffs were challenging but the sweeping views of the Golden Gate Bridge and bay made every steep climb worth it!
Reaching the ruins of the Sutro Baths, an old indoor swimming complex overlooking the Pacific Ocean, was such an accomplishment. We felt on top of the world standing on the cliffs of Land's End taking in the natural beauty around us.
To end our nature-filled day, we drove across the iconic Golden Gate into Marin County. We walked along the trails at Vista Point gazing at the picturesque views looking back on the city skyline and bay. I couldn't get over how the red bridge popped against the
blue water and grey skies!
Indulging in SF's Legendary Food Scene
Of course we had to sample San Francisco's world-class food scene too! We waited in the famously long line at La Taqueria in the Mission for what locals claim is the "best burrito in the world" – and they weren't lying! That authentic Mexican food was
heavenly.
At Pier 39 in Fisherman's Wharf, we had to try clam chowder served in a hollowed out sourdough bread bowl while watching the lively street performers. Total tourist move but so worth it!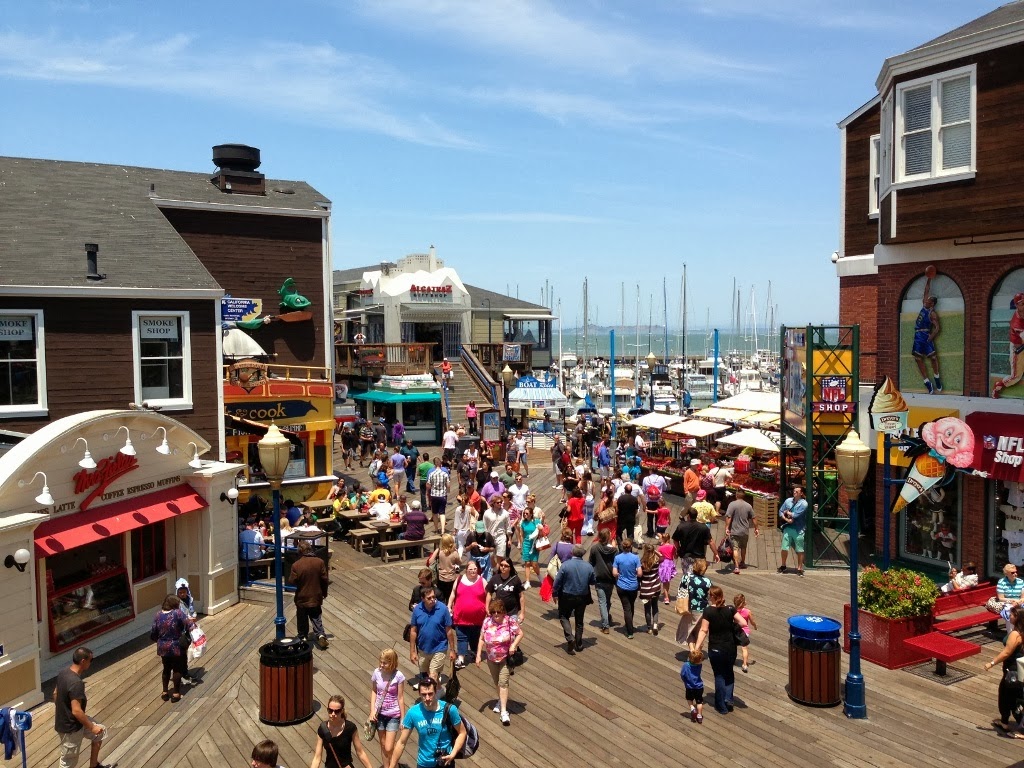 And we felt fancy finishing off our last day with afternoon tea and freshly baked scones at the elegant Fairmont Hotel on Nob Hill. From street food to five star dining, we savored it all.
Already Dreaming of Returning
With its incredibly hilly terrain, charmingly diverse neighborhoods, amazing food, and scenic natural setting, San Francisco completely charmed me from start to finish!
Using Karta to easily find the perfect downtown rental in SF for our stay also took so much stress out of trip planning. Now I honestly can't wait to return to the City by the Bay and explore more of its vibrance and beauty soon.
There are still so many landmarks I want to see, boutiques to shop, museums to wander, and restaurants to try. I'm daydreaming endlessly about our next girls adventure in this incredibly dynamic city!
So that's the full scoop on my amazing SF getaway. Let me know if you have any other recommendations for cool hidden gems, must-try eateries, or unique experiences to check out on my next visit. I need to start planning trip number two ASAP!