How to rock your white outfits in the winter season?
White is a color that has been used to portray cleanliness, freshness, perfection, and purity since ancient times.
Perhaps this is the reason it became a chosen color for traditional bridal attire in the west.
Now, the use of white in fashion is evolving with time. People now associate white with a pristine and elegant look.
People assume that pulling off white outfits is not everyone's cup of tea. The notion that white is challenging to wear may stem from various apprehensions like making you look darker or fatter. Or that it can catch stains pretty easily.
However, white may be one of the best colors to give off a dignified, stylish fashion statement, especially in winters, when the outfits' layering is a fun way to execute your style.
You will see a lot of white winter outfits for women in 2020 fashion catalogs. This shows how color is winning the hearts of fashionistas around the world. You can choose different styles of wool clothes in white as well.
Here, we will be giving some ideas, tips, do's, and don'ts on white outfits for winters, which will satisfy all of your doubts regarding white colored outfits.
The art of layering white outfits
Almost all colors can be paired with white. Therefore the options for jackets, sweaters, shrugs, stoles, and shawls are immense.
When it comes to layering your white outfit, stylists always suggest enhancing its simplicity by pulling over layers in attractive colors and design.
A sweater in a darker shade will be an epic contrast with your plain white dress or top. Also, a custom denim jacket is a trendy choice which increases your style quotient.
You can also try a cozy long coat in various colors, which will add a dimension to your white dress or midi skirt.
Source https://www.pinterest.com/pin/404338872765446981/?nic_v2=1a3ITiGzN
When wearing a white top with jeans or trousers, go for woven ponchos that will add a dignified, luxurious look to an otherwise ordinary outfit. Animal print faux fur jackets can also be paired with a jeans/ t-shirt outfit to give it a statement look.
Pastel shades and white go hand in hand in winters, as they give us a soothing, warm, snug feel in the chilly weather.
A plush lavender coat will gel well with your white jumpsuit outfit, and the options of accessorizing such an outfit are limitless. You can also do the other way around, wear your white sweaters and jackets, or blazers with pastel dresses.
Flaunt a knitted crop top with skinny white jeans and a white woolen stole, also in white color.
Try the classic black and white combination
A combination of white with black can never fail to make a stylish mark. It looks incredibly classy, whether you choose to balance both shades or dominate one over the other.
A long white turtle neck can be pulled off with blue jeans and knee-length boots, an outfit we frequently spot on ramps these days. This outfit will elongate your body silhouette, making you look taller.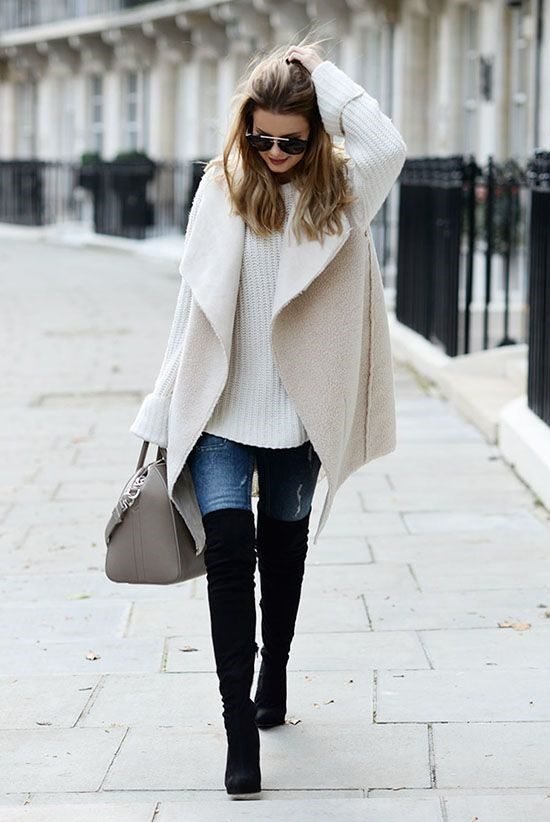 Source https://www.pinterest.com/pin/4222193390112525/?nic_v2=1a3ITiGzN
The strong link between fashion and self-perception cannot be described well than this color combination. Black and white is a go-to choice for workwear in winters.
Your white blazer or sweater will look extraordinarily trendy yet practical with formal wide-legged pants in black.
Source https://www.pinterest.com/pin/2040762319579329/?nic_v2=1a3ITiGzN
Don't shy away from an all-white look. By taking care of a few things, you can safely rock this fashion.
For instance, you can choose to wear head to toe white denim and wear deep-hued accessories for a contrasting look.
You can also experiment with contrasting textures and designs. Pair a striped palazzo pant with a white woolen turtle neck or a white sweater dress with boots in the same color.
Source https://www.pinterest.com/pin/17662623521508001/?nic_v2=1a3ITiGzN
Footwear options with white winter wear
Mostly, we opt for long boots and tennis shoes with our winter outfits. But you can rank high on the style meter with nude pumps, platform heels in dark colors, or lacey ankle-length stilettos. Match your footwear choice according to the occasion and the silhouette of your outfit.
Accessorize the white attire
The way your accessorize your white outfit will decide whether the look is a yay or nay.
Sunglasses can't be ditched just because there aren't summers anymore. The sun is up even in the winters, and sunglasses are a protective accessory that looks really nice on with white winter outfits.
Choose bags either in neutral shades, or go with black. Chained purses will be a smart option for outfits like a pair of white jeans and a top. You can also carry it with a turtle neck paired with a long skirt or wide-legged pants.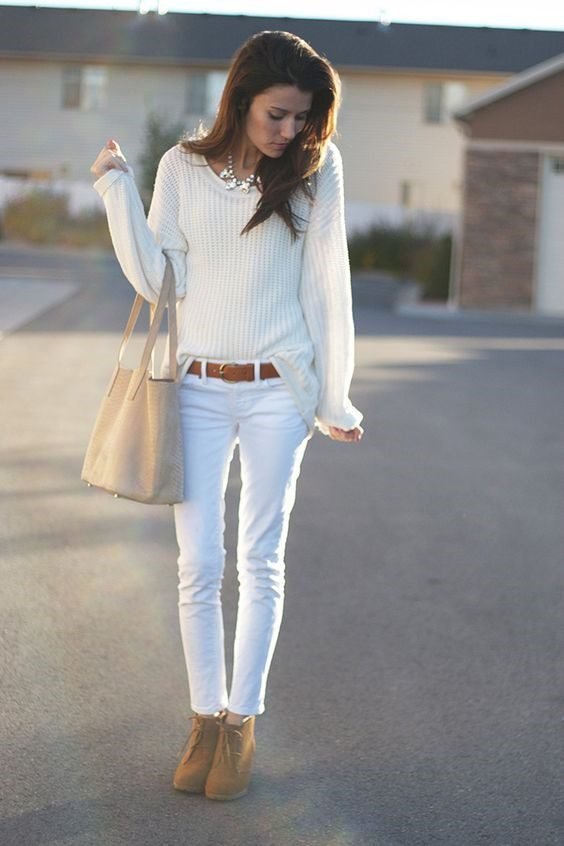 Source http://www.hellofashionblog.com/2012/10/creamy.html
Your jewelry is usually not shown much with winter outfits that are fully covered and heavily layered. However, you can always wear a watch, a bracelet, and ear studs for the much-needed bling that pops a white outfit.
Allowing you to flaunt your lovely hats and beanies, white outfits give you the freedom to wear them in almost any color. Rock a fedora hat or beanie to finish off your white winter ensembles.
Do's and don'ts of wearing white in winter
To look classy and voguish in the white outfits, you must take care of a few things that will ensure your clothes remain stain-free and maintained.
Be careful before you sit anywhere. Dirt on a surface will make your pristine outfit dirty. Keep some disposable wipes with you whenever you wear a white piece of clothing.
Always wipe off excess makeup so that it doesn't leave an unsightly mark on your white clothes. Pullover a paper bag on your face before wearing a sweater or a turtleneck to avoid makeup stains on it.
Be careful with the spills. Avoid eating or drinking in the car, especially drinks without a lid and straw. You never know a speed breaker, or a sharp turn will cause an unwanted spill on your precious outfit.
Even if you get a stain accidentally, don't panic. Use a dry towel to dab at the stain. After that, there are fabric friendly stain removers in the market that will take care of it without ruining your clothes. Make sure you have got one at home.
Always hang your white outfits separately from the colored ones. A cloth protecting cover is your best bet to elongate the life of your white dresses, coats, and jackets.
A lint roller will keep your outfits free from animal fur and lint.
Parting Words
Now, as you are equipped with enough ideas to carry white winter outfits, embrace them without hesitation. White outfits will give you a crisp and highly sophisticated look. Plus, as the pairing options are manifold, you can enjoy mixing and matching other essentials and accessories without any worries.