New Clothing Brand "Girls Will Be" Aims to Break the "Girly" Mold
Launching a business is hard enough. Launching a business which challenges long-ingrained gender fashion archetypes is even harder.
Girls Will Be is a clothing brand that aims to do just that, by producing clothing that avoids the stereotypical pink-and-glitter so common in girls' clothing, while still remaining uniquely feminine.
We asked one of the founders, Sharon Burns Choksi, a few quick questions about the company and the inspiration behind it:
1. Why launch this clothing line in a market which is already glutted with brands — what makes you stand out?
The girls clothing market is glutted with brands that all pretty much look alike, especially if you are talking about the larger brands you find in the mall, catalogs, and online. Girls Will Be stands out because of our four style rules: colors beyond pink, no "girly" embellishments, imagery that break gender stereotypes, and styles that let girls be kids.
Finding clothes that do not break any of these rules is quite a challenge! Even when you can tell a retailer is trying to offer a "less girly" style, it's as if they can't quite bring themselves to eliminate all the "girly" at the same time. You've all seen the blue soccer shirt covered in hearts, the pink Spiderman t-shirt, or the jeans with rhinestones on the pockets, right? Those work for some girls, but not for all of them. We design clothes for those other girls!
2. Why are you countering the stereotypical girly look — what is wrong with that in your eyes?
There is nothing wrong with pink and sparkles and ruffles and bows. But there is a problem when that is the only option offered to girls. Girls who do not like the "stereotypical girly" look should not have to shop in the boys department to find clothes that reflect who they are and what they like. We want them to know it is also OK for girls to dress in a different style.
3. What challenges have you had to overcome in getting these products to market?
As a new, small business, the biggest challenge is getting the word out.
4. What is your background…have you successfully marketed other clothing products?
The clothing industry is new to all of us, but we bring a lot of other experience that has been extremely valuable in building this business. My background is strategy and business consulting, as well as marketing at Dell. My sister, Laura Burns, is an experience graphic designer and my brother, David Burns, is an architect and artist. Plus, as parents, we have spent countless hours shopping for our girls and know all too well the challenges faced by girls who do not want to wear the stereotypical "girly" styles. We want to make shopping easier for those girls!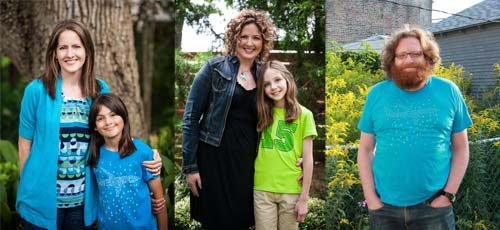 5. Where can people buy the products?
Our products are available on our website, girlswillbeHQ.com. Our clothes are currently available in sizes 4-12, and we will be adding a size 14 in late May.
6. What's next for the brand/company?
We just finished a Kickstarter, which raised over $30,000 to add two styles of not-so-short shorts for girls to our line of t-shirts. So we are busy working to get those shorts made, as well as to introduce a few new t-shirt designs for summer. We know girls need more options in everything from pajamas to underwear to pants, so we will keep working to expand our line over time.