Stop Losing Your Keys with Finders Key Purse
We received a sample of a pretty clever little device that provoked a "why didn't anyone think of this before" response. Introducing the Finders Key Purse (sounds like "finder's keepers," get it?) invented by former airline attendant Sandy Stein of West Hills, CA with some heavenly inspiration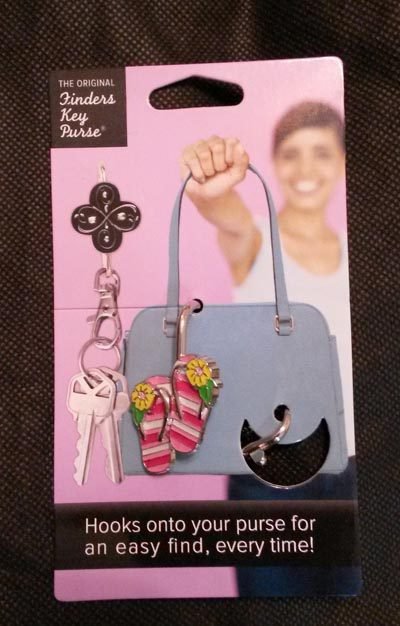 The device simply consists of a curved piece of metal decorated with a nice charm on one end and fitted with a clasp on the other. You attach your key ring to the clasp and place the device over the rim of your purse or backpack.
The side of the hook with the decoration goes outside, and the business end goes inside your purse or backpack. This makes it easy to find your keys, as the hook keeps them from falling to the bottom of the bag.
Here is an example of what it should look like from the outside. The keys, wallet, pen or whatever else you can attach to the clasp stay protected inside!
While the product clearly seems it was designed for females originally, there are some charm designs which are suitable for boys as well on the Finder's Key Purse website. You can also find the product available on Amazon
.
Now, what was the heavenly inspiration we mentioned earlier? Well, it seems that the inventor was going through a financial rough patch, and asked her deceased father for some guidance. In a dream, he described this invention, and she ran with it. Against all odds, she sold a whopping FOUR MILLION in her first year…what an inspiring story!
Would you like your own Finder's Key Purse for FREE? Well, we are giving away our review sample about to a lucky winner (must live in the U.S.) on Twitter on Monday April 28, 2014. Follow us on Twitter @teenswannaknow (http://twitter.com/teenswannaknow) and watch our feed for a special tweet we will ask you to retweet. We will pick a lucky winner at random from everyone who retweets us!