5 Fast Facts about singer MicahBlu
MicahBlu is currently on the "Back to School" High School Nation Tour as the headliner, featuring her Urban Pop style. The Atlanta-based singer/songwriter/dancer wrote her first song at age 9!
She has a very striking appearance — focused on the color blue of course. From her bio:
Blu is known for her bold blue hair, blue lips, blue nails and blue shoes! What she makes a point to say is that the blue is more than a color. For MicahBlu- Blue is more of a feeling… it's a vibe. It represents her creative happy place and when and how she discovered and nurtured her love for music as a very little girl.
When she was a little girl, she had a little blue play room off of her bedroom. In there she spent hours at a time lining up her dolls and performing for them. She wrote her first song in this room and when she was writing and exploring, she was staring at the blue wall and even though she didn't realize the meaning at the time that was actually the beginning of her blue journey.
Check out the video for her song "Jealous" here: https://www.y
Here's 5 fast facts about MicahBlu!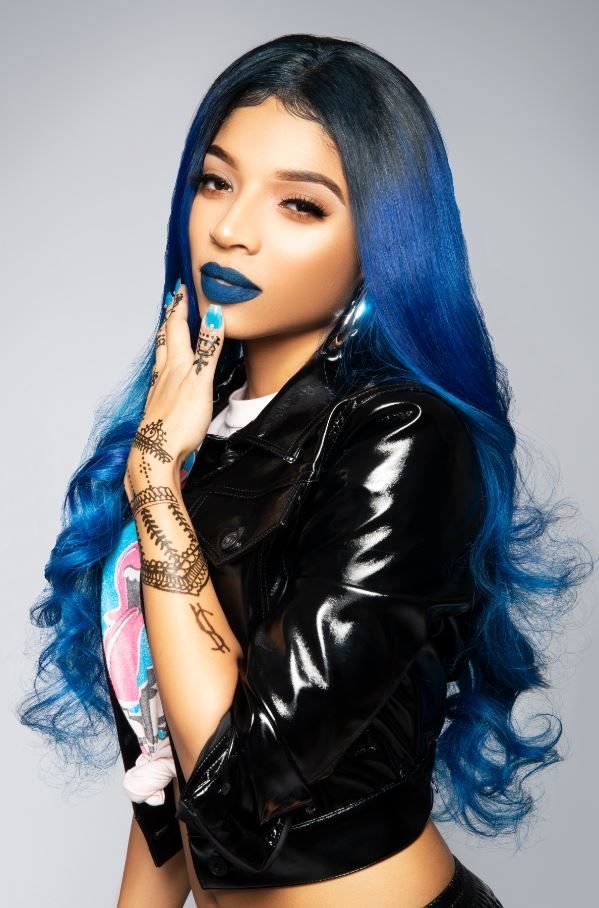 There is one moment in her career which really stands out for her.
So far one of the most special moments was making my music video Do or Die. I don't know but at that moment I felt as though my dreams were finally coming true. I was like excited and teary all at the same time.
She's got good advice for anyone being bullied.
Yea I've been bullied before, I would say I believe most bullies are so insecure they try to target other people to make themselves feel better. If you are being bullied tell someone immediately. Don't just let people think its okay to mistreat you. We deserve better than that!
There is one cringey memory which still haunts her…
My most embarrassing moment in my life was when I tripped and fell on my face during lunch. EVERYONE laughed and I'm pretty sure I still have PTSD…
She sometimes gives off the wrong impression.
Because I'm so quiet initially people think I'm mean or shy. I just like to get to know people before opening up. I'm actually super goofy and a little awkward at times OH and I LOVE scary movies.
There is one must-have in her purse.
I ALWAYS carry blue lipstick!
* Can we please get an unpublished selfie of whatever you are doing right now to keep it real for the fans? : )
https://www.instagram.com/micahblu_/
https://www.facebook.com/micahblufanpage/
https://www.youtube.com/micahbluofficial