Samantha Gangal's 'Ruin Me' embraces a fresh modern rock sound – Interview!
Samantha Gangal is an 18 year old actress, recording artist, and model. Originally from Charlotte, North Carolina, she now lives in Los Angeles. Her acting credits include national commercials and various television and film roles.
Her singing career started at the age of eight when she performed in her first musical, Annie, Jr.  While she began with musical theatre, she slowly transitioned to her favorite genre of 70s and 80s rock.
After recording cover songs "Bohemian Rhapsody" by Queen and "Shallow" by Lady Gaga, she started writing her own music along with her vocal coach and producer David Kidd.  Her first original single," My Own Prison" was released in 2021.  Her follow up single, "Ruin Me" will be out March 4, 2022. "Ruin Me" is a modern rock track, and more indicative of her future music style.
Let's find out more about Sam in her Q&A with TWK!
Photo: Sagaj
Hello Sam, great to chat with you! For those unfamiliar with you, tell us a little bit about yourself and your background outside of the world of showbiz.
I am currently finishing my sophomore year of college. My plans are to major in Political Science while continuing my acting and singing here in Los Angeles.
Tell us about your new song Ruin Me and why you think people are going to want to listen to it?
Ruin Me was a collaboration with my vocal coach. It's an alternative rock song that illustrates a lot of emotions that people my age are experiencing. When I write music, my inspiration comes from situations people close to me have dealt or are dealing with.
What frustrating things have you observed about relationships that inspired you to write this?
This particular song was inspired by observing a person trying their hardest not to fall for someone, but ultimately failing. So, it's written from the perspective of the person's total helplessness in the situation.
How has your sound evolved as compared with your prior single My Own Prison?
My Own Prison was a ballad. Ruin Me is much more in the style of modern alternative rock. The songs I am currently working on also follow along in the same style as Ruin Me.
What do you feel are the biggest pressures of social media for teens, and how do you deal with it to stay positive?
There's a lot of cyber bullying and negativity on social media. The internet makes it so easy to hide behind the computer screen and say what you want with little to no consequences. I try to post positive things and just don't really entertain the inappropriate feedback I sometimes receive.
Who are your inspirations?
Steve Perry of Journey, Stevie Nicks of Fleetwood Mac, and Freddy Mercury of Queen. I also really like the bands Paramore and Halestorm.
What has been your most memorable moment in show biz so far?
I filmed a commercial a few years ago and it aired nationally on several networks. It was pretty cool to see that and to get texts from friends and family every time they saw it.
Long-term career goals?
I would like to continue pursuing my career in acting and singing. I also plan on getting my college degree.
Photo: Christina Turino
Biggest pet peeve?
Hypocrites!
What's your favorite item in your room and why?
My stuffed animal collection. I have been collecting them since I was very young.
Tell me something people would be surprised to know about you.
I am an absolutely huge fan of all the Star Trek series.
The one thing I cannot live without is__________.
My phone!!
Tell me ONE food you REFUSE to eat and why?
Pineapple – it actually hurts my tongue.
What else are you working on or have coming up next?
I have 3 additional songs written with 1 in production.
Could we get a quick selfie of whatever you are doing right now?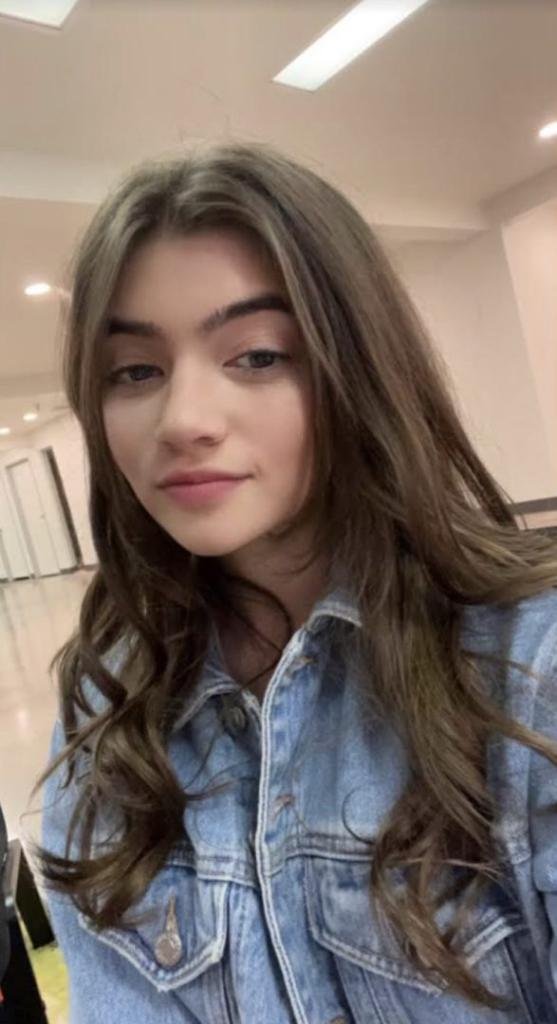 https://www.youtube.com/channel/UCiZwGi9o-FCy3Bu0ZcKnlpw
https://www.instagram.com/littlesamkay/
https://www.facebook.com/littlesamkay
https://www.tiktok.com/@littlesamkay
https://www.samanthagangal.com/
https://twitter.com/littlesamkay