Going back to school? Products and back to school giveaway for a great semester!
It's going back to school time, yippee! Some of you have been in school for weeks now, while others have started today. Don't even play that you aren't excited! Okay, maybe for some of you, not so much, but try to maintain a positive attitude, eh? After all, if you are not having a good time, in a few years you will be DONE, and won't have to deal with going back to school any more!
One thing every body loves about back to school season is new cool products companies come out with to make your school days more bearable — and possibly even GREAT!
So let's check out some of the offerings brands have sent us to check out and review for you. And, as with our past product roundups, we have an AMAZING going back to school giveaway package for one lucky winner courtesy of these businesses!
Note: some products feature affiliate links, meaning we will earn a small commission if purchased after clicking the link.
RazorX Cruiser Electric Skateboard
You probably grew up with a Razor scooter. Did you know they also made skateboards?
Not only that, they make electric skateboards, like the Cruiser pictured above which is sure to make going back to school a lot more fun. It features a 125-watt geared motor, controlled by a hand-held remote, which ramps up to hit speeds up to 10 mph.
So you don't end up flying off every time you start up the motor using your thumb on the remote, the board has a "soft-start kick activated technology," to gradually increase the speed. Stopping is also controlled using the remote, and when the board runs out of juice, it simply becomes like any other skateboard which you propel manually. Recharging takes about 3 to 4 hours, typical for most devices these days.
The RaxorX Cruiser Electric Skateboard can support a rider up to 220 lbs, and is rated to last up to 40 minutes on a single charge. We found it's good for going a couple of miles distance and close to 30 minutes ride time at higher speeds before it runs out of juice–less than the rated time but plenty for just having some fun around the neighborhood. This includes some hills, which drains the battery more though.
This board is obviously not made for heavy tricks…you will ruin the electronics if you try to ride a rail on it (plus probably fall). Compared to a Meebo, Yuneeq, or Boosted–this is definitely more of a toy board, but the price is right for having a little fun and getting from class to class (on campuses which allow skateboards).
To sum up…its a toy and fun for a while–but the battery could use some improvement. There's a lot of complaints on Amazon regarding the battery not holding charge and the board quitting working entirely after a month or even less. If you can get it on sale, its worth it, but beware the issues. Maybe Razor will release better replacement batteries at some point to make it a more reliable product.
Peace Frogs Hippie-Inspired T-Shirts and Accessories
Peace Frogs is a socially- and environmentally-conscious apparel brand that's been around for over 30 years with a long track record of giving back to the community through charitable causes. They make eco-friendly clothing, like T-shirts and hoodies, as well as a selction of jewelry, activewear, totes, playing cards and more.
Peace Frogs is hooking you up with a free hoodie! Well, if you win our going back to school giveaway that is. We have a women's small to give away, check the pic way down below.
And in the meantime, if you love the outdoors and positive vibes, check out the line at www.peacefrogs.com.
GIANTmicrobes Graduation Brain Cell Plush Toy
Need some motivation? Even though the year just started, keep your eye on the prize (graduation) with neurons from GIANTmicrobes featuring an adorable cap and tassel.
Get one and put it in your locker or hang it from your bookbag to let everyone know you are a smart egg. Or are at least trying to be! : )
GIANTmicrobes makes both large plush dolls, plus smaller keychain models. We are giving a Graduation Brain Cell keychain away in our going back to school giveaway below!
Entrepreneur Twila True has launched RivalGlam, an online shopping portal and product ecosystem where the world's top social influencers sell their unique beauty and fashion lines, from accessories and peripherals to makeup, skincare and beyond.
Some of the "glammers" who have already released products on the site include:
Kyra Siverton's, Ok Baby necklaces
Evesther, Jewelry
Nitraa B, Necklaces
Katleynn Ansari,Twila True Body Products
Cristal Garcia, True Nail Lacquer
Evelyn Lozado, Hoop Earrings
Gretchen Christine, Handbags
What's cool about Rivalglam is that it not only lets you find what you need to polish your going back to school look, but that it helps social media influncers make some money by selling products through a centralized site.
Wengie x Yoobi Back to School Collection (Limited Edition)
Yoobi makes fun school supplies and they have recently released their first curated box collboration with YouTube star Wengie. If you haven't heard of her, she does pranks, DIY videos, life hacks, and generally fun stuff for her 12 million followers (and counting). She is quite glittery and sparkly–just like the items she chose for her Yoobi box!
The Wengie x Yoobi Back to School Collection features five of her favorite Yoobi back to school items, including Rainbow & Glitter Washi Tape, a Unicorn Binder Zip Case, a Unicorn Pen, a Pink Glitter Liquid Journal, a 6-Pack of Pink Glitter No.2 Pencils, and a bonus sticker sheet.
You can get a box for about $20, and for every box sold, Yoobi will donate five school supply items to a classroom in need — sweet! They have helped over 3.5 million kids so far.
Geomag Pro-L
If you like the original Geomag's, step up to the Pro-L series, with even stronger magnets to allow you to build more complex models.
Each box includes metal spheres, magnetic bars, plus colored acrylic panels in various shapes which look cool and add strength. The kit we received to sample (and GIVEAWAY!) has 75 pieces, but if you really want to go all out, get the 174 piece version!
We are giving away a free box as part of our going back to school giveaway!
Not all backpacks are made the same. I mean, sure, they all could carry your stuff. But this one carries more than books–it carries a potential lifeline for sufferers of childhood rare diseases by donating 5 percent of net proceeds from each bag sold to non-profit Global Genes for research and education.
The backpacks are not only well-meaning, they are well-constructed. Each has 3 big compartments with plenty of inside pockets, plus a laptop sleeve. Deep mesh side pockets with strong elastic openings keep water bottles and phones from slipping out. The straps are wide, and you can buckle the sternum strap to help reduce strain on your back.
ANNNNNND…we are giving you one as part of our going back to school giveaway!

Drynk Beverage Containers from Vaya
There's nothing worse than taking a swig of a formerly cold beverage only to find its about the temperature of bath water. Also as bad is making hot cocoa to bring with you, and when you finally get where you are going, its disappointingly lukewarm. Bleh!
Drynk beverage container from Vaya solve both problems with one product. The cup keeps your liquids at the temperature you expect for HOURS, thanks to the vaccum insulated stainless steel body. It works really well — we love the sample one we received to review! Its well constructed, and feels great in the hand and on the lips.
Another cool feature is that Drynk comes with two separate lids. One is for sipping, and has a handy magnetic latch so its stays open without flapping back onto your mouth (ouch). The other is for pouring and even includes two cups, which store right on top, so you can share a drink with your BFF while discussing your going back to school outfits.
Compared to the vacuum sealed water bottles on the market which have small openings, this product holds temperatures for slightly less time because the top surface area is the plastic lids and not the vacuum-sealed steel. However, the advantage of having the wide opening is you can remove the lid and literally scoop ice cream in it and still have it cold a few hours later. Ditto with like a bowl of ramen or spaghetti-o's — a meal in a cup which will stay hot for hours!
myCharge myFlipShade iPhone Holder and Privacy Screen & Shield Protector
You know how hard it can be to read your phone screen when out in the bright sun. Solve this with myFlipShade, a pop-up shield which attaches to the back of your phone with adhesiveand lays flat until you need it. In addition, you can drop the side flaps to keep nosy people from reading what you are doing. The whole thing acts as a shield against rain as well, and can be used even if you have your phone in a case in most instances.
If you use your phone a lot in the sun…get this product!
Once Upon a Book Club – Young Adult
When we were young, we used to lobe it when mom or dad would read us a book, especially at bed time. As we got older and HAD to read for school, it became less fun. Once Upon a Book Club helps make reading fun again by making reading interactive and engaging.
Each box includes 3-5 special gifts to open throughout the book that actually brings the book to life! As you can see from the ic above, certain pages require you to open certain items to uncover surprises…and the fun isn't over once the book is done. There are live social media discussions with the author and other book clubbers to keep the story going!
What's in the box?
Newly released contemporary, general or historical fiction book (choose either adult or young adult)
3-5 individually wrapped gifts with page numbers from the book, not meant to be opened until you reach the given page – bringing the book to life! These gifts are so well chosen that you will get chills upon opening!
A 5×7 quote print featuring a quote from the selected book
Discussion questions (featured both on Facebook and Instagram) and read-a-long dates for live discussions and gift openings with fellow Book Club members!
Q&A with the authors on social media
You can see for yourself if you win our giveaway, because a box is included!
OKAY, IT'S TIME TO EXPLAIN THE GIVEAWAY RULES!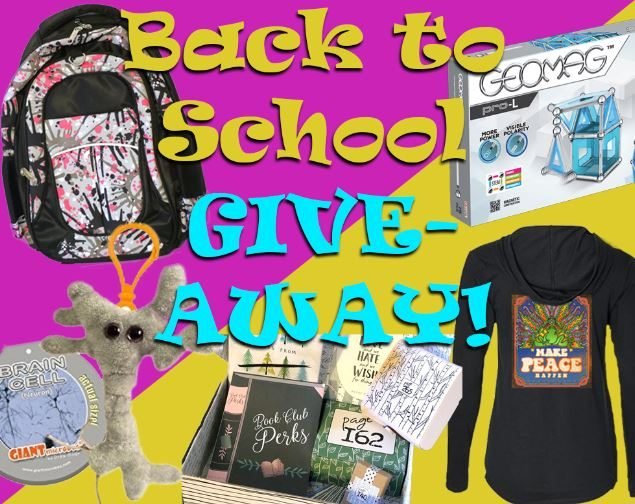 Follow us on Instagram
Like our giveaway post (it looks like the pic above)
Mention a friend who you think needs some Back to School motivation in the comments.
For each friend mentioned, you get one entry into our drawing. The more you enter the more chances you could be chosen as our winner!
We will ship anywhere in the U.S.A., no international entries please!
We will choose one winner from all entries received and announce MONDAY, SEPTEMBER 10, 2018!