How to choose the right apparel? A fashion guide for men
Is a sudden realization about your lack of fashion sense giving you the urge to dress appropriately?
Let me picture you before this realization came.
You spent years dressing shabbily. Baggy jeans and shirts with awkward logos were your go-to clothing option, whether you were at home or going outside.
You never considered buying a decent pair of shoes and wore your shoddy sneakers wherever you went. Regular grooming and a fitness regimen were also on the back burner for ages.
In short, you never thought there could be any fashion rules for men.
But now, you wish to transform yourself into a man that looks dapper. For this, you need to learn how to buy appropriate clothing, the latest trends, and how to dress well. These will help you look like a classy, well-groomed man.
Acclaimed men's fashion guru Antonio Centeno says that men's attitude towards clothing is changing with time, and they are getting more aware of fashion.
You may be clueless about the trending styles, clothing combinations, and colors in men's fashion that will be suitable for you.
Without allowing your morale to go down due to your lack of knowledge, we will explain to you the basics of men's fashion, its rules, and how to choose the right clothing essentials.
Never choose low value over high quality
When you browse an online fashion shop or hit a store to buy clothing, it is easier to feel the urge to save more and compromise quality.
However, low quality means low durability, which might cost you even more money than you can save. Obviously, clothing manufactured in inferior quality will not last for years; neither would remain in the best shape later.
When shopping for clothes, do prioritize the quality of fabric, stitching, and design. Never compromise on any of these if you want to give an impressive fashion statement.
Build multiple outfits with versatile clothing essentials
There are a few essentials in menswear that form an interchangeable wardrobe. Most of these clothes are versatile, which means that they never go out of fashion.
A classic navy blue suit, three buttoned-down shirts(white, black, and blue), two formal pants (black, grey), and a blazer are good enough for a minimalist formal wardrobe. You can have more if required, but make sure to buy colors that can go well with each other.
Blue, maroon, white, teal, and pastel-colored shirts can be matched over grey and black trousers. You can choose to wear your suit jacket or blazer, whatever complements the outfit's color.
As for the casual and semi-formal clothing, t-shirts, henleys, sweaters in deep hues will make you look incredibly classy. For bottoms, opt for dark jeans and chinos in neutral colors. Layer casual wear with voguish leather or denim jackets.
Buy some good quality athleisure clothing if you are regular with your fitness.
Winter clothing like quilted jackets, long coats, beanies, and mufflers make a man look well dressed, plus they are practical enough to save you from the chilly winds.
Click here for t-shirt quilt makers near me.
Wear clothes that fit you properly
One can never emphasize enough the importance of the right fit in order to look clean-cut.
It would be best if you tried a piece of clothing before buying it. If you find clothing that fits you right, buy two in different colors or patterns. You never know when such a perfect fit will be next available.
The tailor is your best friend wherever a little alteration is needed here and there. Clothes that are custom made for you enhance the well-built areas of your body. These bulk order custom t shirts are also sold online. They will also help you stay comfortable and move around freely.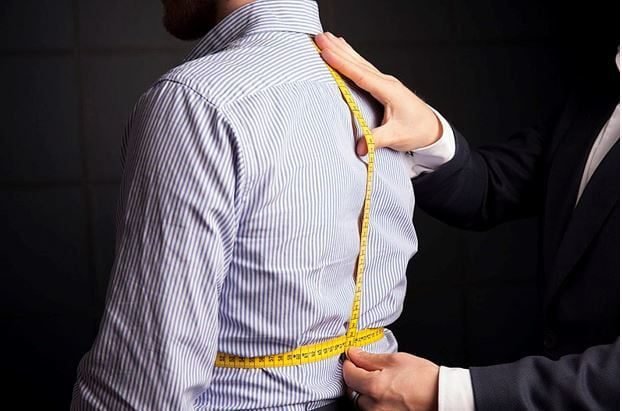 Try to get a tailored suit as properly fitting readymade suit jackets are hard to find. Even if you own one, own the right one for you.
Focus on inner comfort
You will be able to execute a dapper look only if you are comfortable from the inside.
Undergarments are the foundation piece in an outfit. They provide comfort, which is a deciding factor in how the outfit will make you feel. Boxer briefs are the most comfortable undergarment for men, so make sure you have some of them in a moisture-wicking material.
Vests or undershirts are also an essential undergarment. In summers, they will absorb the sweat and keep friction from the shirt material at bay. In winter, it will help keep you warm. It also helps shape the body so that you can carry fashion confidently.
Even socks are an important consideration. Consider adding several pairs of cushioning, moisture-wicking men's bamboo socks to your arsenal.
How many shoes should you have?
There is a famous saying by Kaushik Roy that good shoes will take you good places, and we can't agree more.
The role of shoes in a stylish man's wardrobe is enormous. Some men make the mistake of owning a single pair of shabby sneakers and wearing it everywhere, irrespective of the occasion.
You need a pair of sneakers, but getting a nice pair of boots will add a bit of diversity to your casual wardrobe. Men's loafers are also a very trendy form of footwear. They can even be worn on formal wear, which makes them a must-have.
You can get derby or oxford shoes to go with your formal clothing. Buy them in brown or black so that matching them with your interchangeable wardrobe becomes easier.
Buy some comfortable trainer shoes if you are a frequent runner or go to the gym.
Learn to accessorize your outfits in an appealing manner
What makes you stand out in a room full of well-dressed men? Accessories.
A magnificent watch and sunglasses are what you need to upscale any outfit. There is no chance that wearing a watch and a cool pair of shades will harm your overall look. You will definitely look handsome in them.
Belts are another accessory that adds a dimension to your outfit. They help to put your outfit together, giving an impression of a well-dressed man.
There is a massive variety of men's jewelry available, including bracelets, rings, and neck chains. But it would help if you were very careful with the selection. Tacky, blingy jewelry will spoil your look and give it a feminine feel. It is better to stay safe by opting for a dark matte man's bracelet and a simple finger band instead.
Follow notorious fashion influencers on social media
On YouTube and Instagram, there are a plethora of men's fashion gurus giving valuable advice. You can follow a few of them to get some trendy fashion inspiration and tips on do's and don'ts in men's fashion.
They also announce giveaways and discounts on chosen brands via their content to their followers so that you can get a double advantage.
In a Nutshell
Don't throw away your money on clothes that won't look good on you or maybe out of trend soon. Always think of what you've already got and what can be the best match with it.
Shopping for menswear can be challenging, but the tips mentioned above will hopefully help you build a super stylish wardrobe for yourself quite effectively.