Rising Star Juju Brener partners with YMI Jeans – INTERVIEW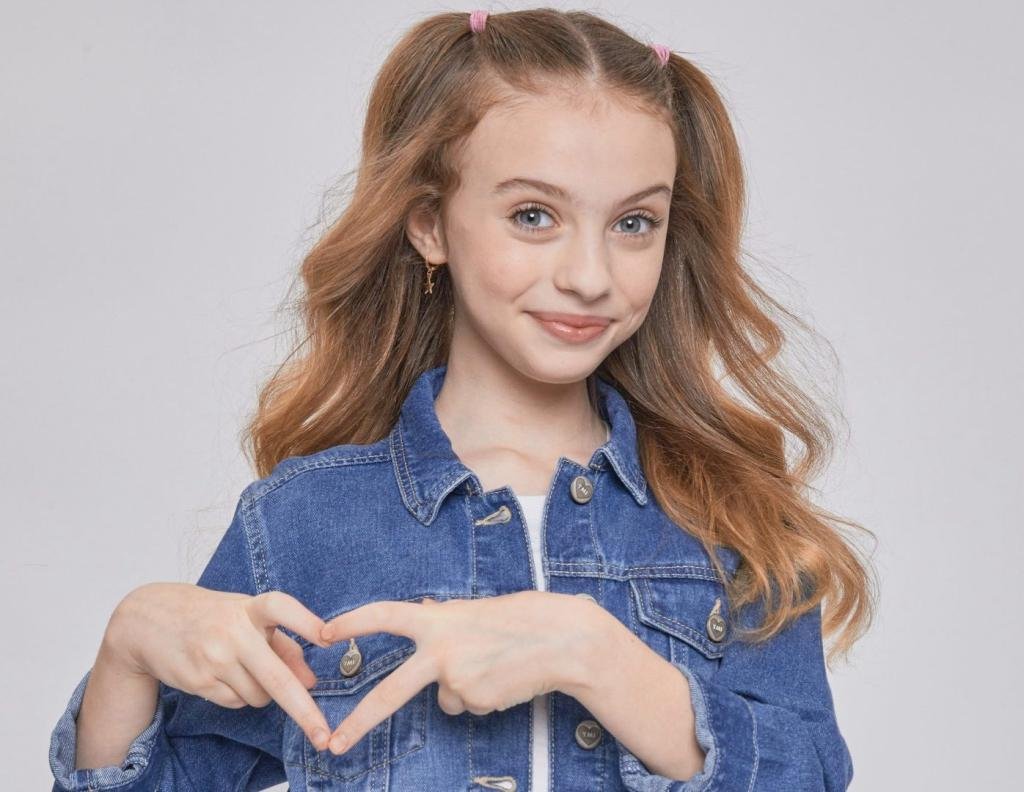 The YMI Jeans family just got a little trendier, with breakout actress Juju Brener joining forces with the fashion house to release the JUJU x YMI capsule collection. Juju (Journey) Brener, is an award-winning Actress, Voice-Over Artist. Dancer & Model.
From sharing the screen with Morgan Freeman in the Lionsgate action thriller Vanquish, to her voiceover work alongside Chloe Grace Moretz in the animated feature Red Shoes & The Seven Dwarfs, Brener is quickly establishing herself as a rising star in Hollywood.
In the fall of 2022, eager audiences worldwide finally got to see Juju as Young Sarah Sanderson in Disney's Hocus Pocus 2, the highly-anticipated sequel to the 1993 Disney cult classic that reunites its beloved original stars: Bette Midler, Sarah Jessica Parker & Kathy Najimy. Hocus Pocus 2 is now the #1 most watched Disney Plus premiere since the streamer's launch In 2019.
Brener is currently filming the drama The Man in the Long Black Coat, starring Christopher Lloyd and Dermot Mulroney and just wrapped filming the comedy Born Again; sequel to Born in East LA, starring Paul Rodriguez, Jay Mohr and Louis Guzman. Both are slated to release in 2023 -2024, as is the book-to-movie adaption The Furry Fortune which stars Brener. She can also be seen on Hulu in the retro comedy VHYes, starring Tim Robbins and Susan Sarandon, directed by Jack Henry Robbins. Brener recently re-teamed with Robbins for a Jimmy Kimmel Live sketch on ABC.
Juju won Best Actress awards at the Young Artists Awards and the Young Entertainer Awards 2021.
Aside from her acting work, Brener was recently named Brand Ambassador for YMI Jeans with a capsule collection JUJU X YMI. Brener designed the line, currently in stores, alongside the company's creative team. The collection includes jeans, pants and jackets. For over two decades YMI has established itself as a leading junior/young contemporary denim house. This is the company's first collaboration with a child actress, and foray into putting the spotlight on their kids line, with a young fashionista giving her design ideas.
"Fashion has always been a big part of my life," said Brener. "I've been expressing my own unique individuality through my outfits for as long as I can remember. My grandmother is crafty and taught me and my sister how to put patches on our jeans from an early age. I love that stylish comfy vibe when I wear jeans. YMI is great because it appeals to girls and women of all ages who are confident, vibrant, fashionable and want to express themselves through what they wear. I couldn't imagine a better brand than YMI to create this kids collection with."
Juju is very talented and extremely creative," said David Vered, CEO and Founder of YMI Jeans. "We're glad that she chose to express herself through a capsule line with our YMI Girls brand that brings her personality and character to play through our collection."
Hello Juju, nice to chat with you! For those unfamiliar with you, tell us a little about yourself outside of showbiz.
Hii 😉 nice to be chatting with you guys as well!!
I was born and raised in Los Angeles. I come from a really creative family. My dad Bruce Rubenstein is an abstract expressionist modern artist. My mom Shirly Brener is an actress and producer. I have an awesome older sister Mila. We were born 7 years, one day apart, so we always share birthdays. I learn so much from her. We both have been acting, dancing, making art, doing voiceover animation and music since we were teeny. We also have an adorable rescue Chi mix named Pixie. Our family is super close.
My parents named me Journey as in the 'path of life'. But early on my mom and sister decided I was sweet yet sticky like Jujubes gummy candy and created the nickname. I love movies & music. I have a strong bond with animals; especially dogs, monkeys, dolphins and anything furry. I love traveling and have been doing so my whole life both for work and for fun. Some places I've been to are: Thailand, Israel, Miami, New York, New England and the South. My dream is to go to Hawaii. I love roller coasters, fashion, scary movies, expressing myself, all sweets and anything Disney .
You've launched your own capsule collection with YMI—at TEN YEARS OLD! Great accomplishment! What were your inspirations when putting the designs together?
Ahhh thank you, well I truly believe that you're never too young or too old to follow your dreams! I just keep moving forward and creating in things I'm passionate about. Fashion has always been a big part of my life. I've been expressing my own unique individuality through my outfits for as long as I can remember. My grandmother is crafty and taught me and my sister how to put patches on our jeans from an early age. It was important to all of us to create a capsule collection that reflects the trends of the moment in youth sizes. My inspiration was Gen Z, Tik Tok culture, mixed with an urban city, like a New York fashion vibe.
What was the biggest challenge you faced when coming up with the collection.
Me and my team actually worked hand in hand with the amazing YMI team headed by founder David Vered and head of marketing Maria Munoz. We planned everything very meticulously for months. So the timing was very thought through as were the designs. We started early in 2022 so that by October launch it was all just perfect.
I think our biggest challenge was to make the styles we envisioned work for younger girls. To create fits that are not commonly available for this demographic. We wanted to have all the trendy flared leg, mom cuts, boyfriend jeans, oversized looks, elephant leg etc. for 6-15 year olds. It also meant that YMI diverted some from what their previous usual "go to" look was for this age group.
What do you want girls to feel when they wear JUJU x YMI clothing?
YMI as a brand is awesome because it has always appealed to girls and women of all ages who are confident, vibrant, fashionable and want to express themselves through what they wear. I want girls that wear JUJU x YMI Collection to feel confident, cool, stylish and comfortable! It was really important to me to create a line that you can move in and feel good in. As an active girl, dancer and someone that's always on the go and/or traveling, I wanted smooth jeans. My collection fabrics are so soft, comfortable and easy to move around in. Some are also stretchy.
FROM VIDEO CREATOR: "I wanted to create something that showcases Juju's vibrant personality and her unending talents. She is such a bright light and a pleasure to work with. I still forget her age because she's so mature and cool (much cooler than me)"  ~ Dalia Vered. Credits: Creative Director & Producer:  Dalia Vered. Director:  Sofia Alvarez DOP: Jenna Huskisson
From roles in films such as Vanquish with Morgan Freeman to the huge hit Hocus Pocus 2, you've achieved a great deal at your young age. To what do you credit your success?
That is so sweet thank you! I've always been driven and have all kinds of things I'm working on and various goals ahead. I have a lot of energy and have also always been a kid that likes to be busy, but honestly don't know how I would do it without my mom and Mila. My mom is very organized and keeps a good schedule to cover it all. All her years in the industry add knowledge and efficiency and help so much.
Same goes for Mila. She helps coach and prep and is always there when possible on days of shoots. We are like our own little production company, the three of us. We really try to stay grounded and humble. Since my family is very familiar with the industry (my dad is also a former writer/producer) we all understand how much focus, hard work, and dedication it requires. We never compare ourselves to others and keep in our own lane. We continue to be creative and make our own path.
I am also a huge believer in surrounding yourself with mentors that guide, inspire and encourage. I have been blessed with some incredible family, teachers, agents and manager, actors and directors I got to work with, business relationships and special friends all who have and continue to contribute, each in their special way to my path and journey
What has been your number one, ALL-TIME FAVORITE-moment in show biz so far?
The Hocus Pocus 2 premiere in NY!!! It was in Sept and just the most magical night and a wow experience! Working on HP2 and all that went into it, the incredible talented people and friendships I made that will last a lifetime! From the getting ready to all the press outlets–the excitement in the air! In Disney style, it was colorful and full of lights and festivity. Was so special after 29 years of anticipation to see this sequel which I am a part of in the theater in NY (which is one of my fav cities), alongside my castmates, who are now friends for life, and the incredibly talented iconic actresses Sarah Jessica Parker, Bette Midler and Kathy Najimy. As well as the incredibly talented director Anne Fletcher and amazing producers Adam Shankman, David Kirschner and Lynn Harris, and fabulous writer Jen D'Angelo. It's fascinating to see how much effort, various departments, personnel, and talent pre & post are needed to make a movie! And to see it all come together so gloriously with my family, friends and all the fans–we all loved the movie so much–is an experience I'll never forget!
If you could have one super power in real life, what would it be and why?
I'd love to have the power to fly! This way I could get to anywhere I want to get to fast.
If we asked your friends what your best quality is, what would they say?
My silliness 😉 my friends say I'm funny and silly, that I always try to make them laugh. So when they are sad or annoyed they can just call me and somehow I find a way to make them smile.
Your sister Mila is also an actress. What's the thing you like best about your sister?
I've always looked up to Mila who is an amazing actress and now also director, and so multi-talented and committed. I learned so much from her talents and skills and still do. The thing I like best about her is that she helps me with everything I do both personally and professionally. She takes care of me, helps with school, acting, dancing, music, fashion and many other things, Shes has a kind heart and is a very dedicated sister.
Name one thing she does that bugs you, lol?
That she kicks me out of her room ;( I just want to hang out and be with her and she sometimes says I'm annoying and throws me out lol.
Favorite snack?
Ice Cream or Boba.
Favorite holiday (and why)?
Halloween of course!
Halloween has always been my favorite holiday. Its just my thing. ! I love dressing up and coming up with creative costume ideas. I like that this holiday is spooky and macabre. I am also obsessed with candy, so its so fun to trick or treat. It's the only day a year my parents let me eat lots of it ; )
My family and I always do thematic costumes. We go all out, plan for weeks and do it very meticulous and detailed. Some of my favorites were "The Walking Dead", where I was a zombie child, "Heaven & Hell" where I was an angel, and "Adams Family" where I was a female Pugsley.
Biggest pet peeve?
When someone asks me to do multiple things all at the same time.
Tell me something people would be surprised to know about you.
That I usually walk around in socks most of them mismatched! .
Tell me ONE food you REFUSE to eat and why?
Eggs! Because the texture and taste when I put it in my mouth makes me gag.
What else are you working on or have coming up next?
I'm currently filming the suspense thriller "The Man in the Long Black Coat" starring Christopher Lloyd and Dermot Mulroney. I just wrapped the comedy "Born Again" sequel to "Born In East LA" produced and starring Paul Rodriguez. Releasing in 2023 is the family comedy "The Furry Fortune". It's a best seller book to movie adaption, where I star alongside Mason Blomberg and Henry the dog. I am also working on exciting new things on the music side which ill be able to share down the line.
Selfie time!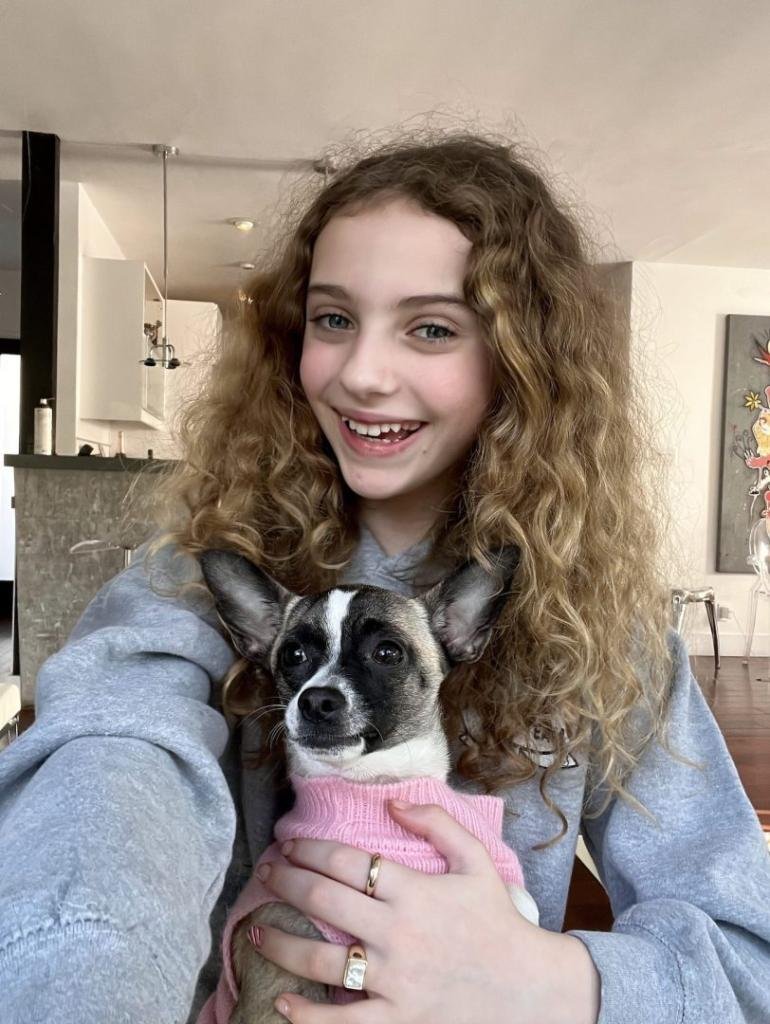 It's New Year's Day, the afternoon of the first day of 2023 and I'm chilling at home with Pixie. Wishing everybody a happy, healthy and prosperous new year!
https://ymijeans.com/pages/juju-ymi-campaign
https://instagram.com/jujubrenerofficial
https://www.facebook.com/officialjujubrener
https://twitter.com/jujubrener
https://youtube.com/@milajujubrener4538
Photography: MItchell Aragon Hair & Makeup: Alma Nunez Styling: Heather Wawee