5 Fast Facts about actors Gracen & Paris Newton

Gracen and Paris Newton are two siblings making it big in Hollywood! You may know Gracen Newton from hit shows like "The Kominsky Method" "Will & Grace" and "Child Support" but he is best known as playing the cute and funny puppy Rolly on Disney's hit show "Puppy Dog Pals!" His little sister Paris Newton might be little but she's an actress on a big show playing William H Macy's granddaughter, Franny Gallagher, on the hit Showtime show "SHAMELESS." They may be small but they both have very big futures ahead of them in Hollywood!
Here's 5 fast facts (each) about Gracen and Paris!
GRACEN NEWTON
He might be the youngest acting coach in Hollywood – and his sister is his exclusive client!
I love being her big brother but I am also her acting coach! I love getting to teach her all my acting tricks I have learned over the last few years and my favorite thing is when its time for her show to come out and I get to watch her perform what I helped her with on TV!
His favorite showbiz moment would be a dream come true for many actors.
My best moment so far would definitely have to be when I got cast as my favorite character on my favorite TV show "Puppy Dog Pals." I absolutely love playing Rolly and it was the craziest best feeling in the world when I got to hear it for the first time on TV!
Big plans for the future? Check!
I would definitely start a production company! When I grow up I want to be an actor, writer, director, showrunner- all of it! It would be so much fun to have my own production company!
If he was a collectible, he'd be like Boba Fett with the working rocket launcher (Star Wars geek humor).
I am actually the most unique and rare of the red heads because I have red hair and blue eyes! Most red heads have either green or brown eyes, mine are blue! I have been told I'm like finding a unicorn!
One food he MUST eat at least once per week is:
Oh definitely pizza!! I love pizza!!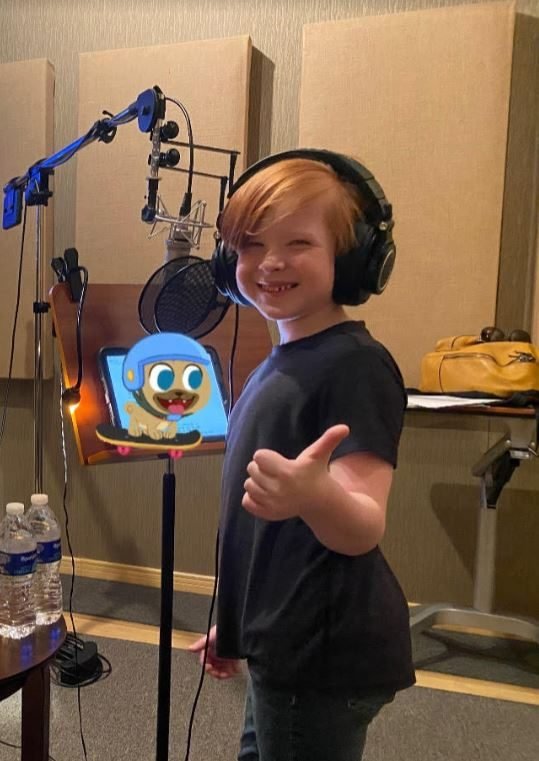 I actually just got done in the studio for Puppy Dog Pals so here is I picture I just took while there!
Instagram:https://www.instagram.com/gracennewton
Twitter: https://twitter.com/GracenNewton
Facebook:https://www.facebook.com/GracenNewton/
PARIS NEWTON
She gets to work with an amazing actress.
I think my best showbiz moment so far is getting to work as Emma Kenney's daughter! She is so much fun to work with and I learn so much from getting to work with her. She is an amazing actress!!
She would love to play Sleeping Beauty.
I would want to play Sleeping Beauty because I love her dress! Also, her Castle is at Disneyland so that would be a pretty awesome place to film!
Her big bro is her best friend.
I love being Gracen's little sister because he is my best friend! It's also pretty cool that I get to be the real life sister to Rolly on Puppy Dog Pals!
Unlike her brother, she is blonde!
Most people think I have red hair because I have red hair when I am playing Franny Gallagher on Shameless and my brother has red hair, but I am actually a natural blond! They temporarily dye my hair red every time I film for Shameless since Franny is a red head!
Her fav food is:
Definitely Taco Bell! I love their food, especially the cinnamon twists!

Instagram:https://www.instagram.com/parisrosenewton
Twitter:https://twitter.com/ParisRoseNewton