5 Fast Facts about singer-songwriter Annissa Murad
Anyone else remember the 2000s? MTV, skateboards, iconic rom-coms and the carefree kinda music which made you want to romanticise your life? Cause it's coming back better than ever! 15-year-old Annissa Murad is bringing back the fun of that era with her bold rock-chic Avril Lavigne visuals and Taylor Swift's relatable storytelling skills.
Annissa has been classically trained on the piano since age four. She played an original song in London's O2 Arena and grabbed second place in the world-renown international singing competition "Teen Star." She's also written songs with acclaimed Nashville artists such as Britton Cameron and Grammy-nominated writers Kim McLean and Margaret Becker,.
Annissa is striving towards pop stardom, carefully curating her craft to produce the universal soundtracks to living your best life. Hence, get ready to be transported to a brand new world of fun and adventure!
Here's 5 fast facts about Annissa!
She cherishes her family.
I am very close with all members of my family and I truly feel as though being surrounded by people who you love and who love you is really one of the keys to happiness. Me and my brother are like a little team, we support each other in everything we do! You can find me front row at each of his football matches and you can find him being the first to listen and dance to every new song I write!!
Avril and Taylor are her biggest inspirations.
I'd have to say my biggest inspirations are Avril Lavigne and Taylor swift. I'm really inspired by Avril Lavigne's 2000s vibes in her production and music videos which I try to incorporate in my work too! I love Taylor Swift's powerful storytelling skills and how she can turn personal experiences into such relatable songs which go onto become soundtracks to peoples lives.
She has a positive outlook on social media pressure.
I think one of the biggest pressures nowadays is to always look perfect in every way shape and form whilst comparing yourself to everybody else in social media. I think the way to avoid this is to come to terms with the fact that everybody is beautiful in their own individual way and since you can't really change the way you look, learn to really love your unique appearance. At the same time realise appearance is literally 1% of what actually matters.
Essentially, if you have no interior substance or good personality, any form of beauty will eventually fade. Therefore, in order to avoid pressures of perfect appearances, work on being beautiful on the inside because at the end of the day it's the only kind of beauty which actually lasts.
Her fans are family to her.
One thing people don't really know about me is how close my relationship to my fans are. After all the fandom name is called #AMF (Annissa Murad Family) and if you ask any of the members we really are like one big family. I'm so glad I get to connect with them on such deep levels with my music and I'm so grateful to have them by my side as we go onto achieve some amazing things this year!
DIY is fine with her!
Another thing people may not know about me is that I direct and edit all my music videos! When you don't have the budget to make 100,000 pound music videos I think the DIY method is best. I find it's also a super fun process: I collect all my Inspo from artists I admire and of course Pinterest and then create a plan of each scene. Once we shoot all the content, I edit everything up and my music vids are ready to go! In addition to this, it also conveys the message that you don't need to have massive funds to begin working on your dreams — start small, work hard and soon you'll find yourself where you want to be!!
BONUS FACT: She can't live without eating:
Omg…this is so easy: sweets. I actually don't think I could live without a bit of sugar in my life. If we were living in a perfect world I'd make sure to have a supply of flying saucers at all times to keep me going!
Selfie!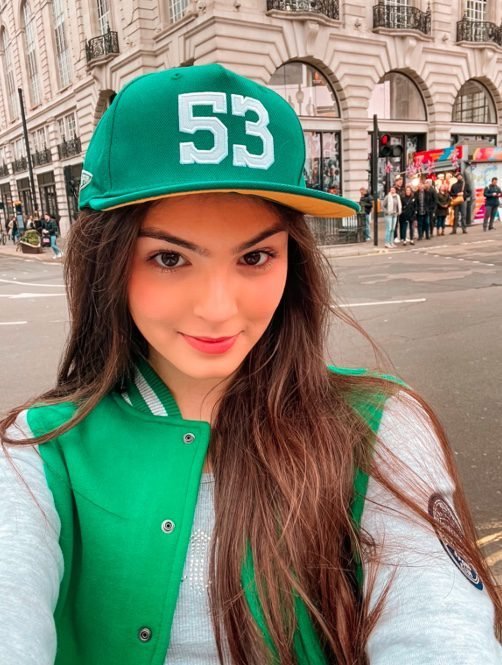 Here is a selfie of me on my way to a recording studio in my home city London!!
Where you can find me:
INSTAGRAM: https://www.instagram.com/annissamuradmusic/
SPOTIFY: https://open.spotify.com/artist/0kcYSS1FpZ314kQsOnYD1Q
WEBSITE: https://www.annissamurad.com
YOUTUBE: https://www.youtube.com/channel/UCPkVmNyDpYs-pLtmqffLTmg