7 Things All Teens Should Know About Applying to College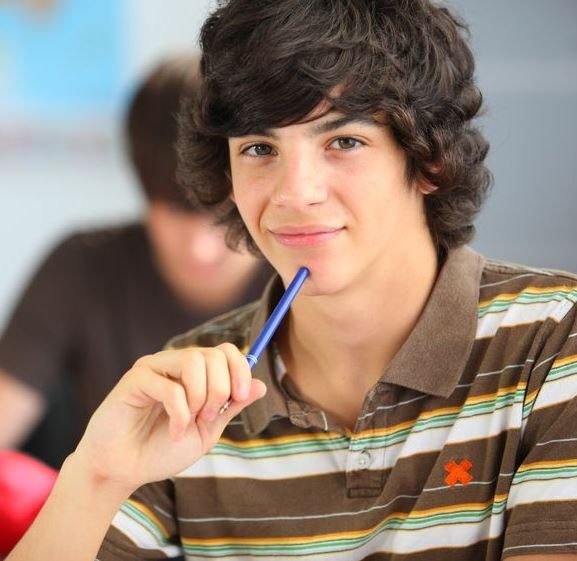 Let's face it: whether you're just starting to look at colleges or racing to finish your personal essay before the deadline, college applications can be intimidating. The good news? They don't have to be. With a little guidance, any teen can navigate the college application process like a pro.
As a content fellow at Khan Academy, I've spent the last year and a half talking to admissions officers, financial aid professionals, and students who've been through the college application process themselves. They all had a ton of wisdom to share – things I wish I'd known back when I was applying to college!
#1: Your phone is your friend.
Phones aren't just for texting – they're also a great way to get homework help on the go. With more and more free learning apps available every day, the information you need is literally at your fingertips. Khan Academy, for example, has practice problems, video lessons, and articles on math, science, history, and much more on its Android and iPhone apps.
By using the resources on your phone, you can take charge of your own learning. That's important, because your high school grades are a big part of your college application. In fact, most colleges say that your high school transcript is the most important part – they want to see that you've taken challenging classes and done well in them.
Student story: High school classes:

#2: Don't be discouraged by the sticker price.
Some teens avoid applying to specific colleges – or applying to college at all – because they worry they can't afford it. There's no denying that college can be expensive. On average, it costs almost $20,000 per year to attend a four-year public college, including tuition, meals, and housing. The average cost of attending a private college is even higher: over $40,000 a year.
Fortunately, financial aid can make college much more affordable. Financial aid includes scholarships, grants (which don't have to be paid back), and loans (which do). You can apply for financial aid from the federal government, private organizations, and colleges themselves. In fact, the schools with the highest sticker prices often provide the most financial aid.
Perhaps you've heard back from your first-choice school about your financial aid application, and they didn't offer you as much aid as you'd hoped. The conversation doesn't have to stop there – it's perfectly acceptable to appeal the school's decision. For example, if you've received a more generous offer from your second-choice school, you can share that info with school #1.
Student story: Overcoming financial obstacles to college

#3: You don't have to pay big bucks to do well on the SAT.
For many students, taking standardized test like the SAT and ACT is the most intimidating part of applying to college. Fortunately – since the SAT and ACT test what you've learned in high school – you've been preparing for them since freshman year, even if you didn't realize it at the time. Better yet, you can find free resources online to help you study.
For the SAT in particular, check out Khan Academy's Official SAT Practice. It includes information about the test, personalized practice recommendations, and tons of practice questions. These are all free, and all developed in partnership with the College Board, the non-profit organization that writes the SAT.
Student story: Standardized tests:

#4: Ordinary events can inspire extraordinary essays.
Many teens think that their college application essay needs to about something epic – curing cancer or starring on Broadway or competing in the Olympics. I haven't done anything like that, they worry, so how can I write a good essay?
The truth is that some of the best essays are about everyday events. In fact, one of the admissions officers I interviewed – someone who's read thousands of essays – said that his favorite essay of all time was about working at a fast food restaurant!
Your personal essay is the most personal part of your application. It's a chance for admissions officers to get to know you – how you reflect on your experiences and what makes you unique. So don't worry about whether your topic is important enough – write about something that's important to you, and let your thoughts and feelings shine through.
Writing a strong college admissions essay:

#5: Do your homework.
There's no better way to gauge whether or not a school's a good fit than the gut feeling you get from actually stepping foot on a college campus. Visiting campuses is one of the most enjoyable parts of the application process and arguably the best way to get a sense of what attending that college is really like. For many colleges, an interview is also part of the application process. Before your interview, get to know the school – what makes it different from other colleges? Exploring the school website is a great way to start your research.
You can use what you learn as a starting point for your interview, but make sure to ask questions that can't be answered just by reading the college's website. For example, you might ask about the school culture, or what it's like to participate in one of the programs you discovered in your research..
Doing your homework shows that you're really interested in the school, and that you've thought about why it might be a good fit for you. You'll also learn more and get more out of the interview if you can ask specific questions about specific programs.
Student story: Admissions interview:

#6: There's another reason to schedule a campus visit or interview at a school.
If you already know that you want to attend a particular school, you might think there's no need to visit it. But visiting isn't just a way to learn more about the school – it's also a way to show admissions officers that you're interested.
Also, if the college's admissions website "recommends" an interview, you should view the interview as required. Visiting a campus and scheduling an interview, tour, and/or overnight stay are all great ways of demonstrating that you're especially interested in a school.
If you're worried about the cost, you can always ask the school whether they have any programs to help lower-income students visit, or whether they hold virtual interviews for students who can't make it to the campus. More and more schools are offering these options, and It never hurts to check!
Visiting campus: Campus Visit Alternative: Online Tour

#7: Get excited!
There's no doubt that applying to college is a big job, but it's also the start of a big adventure. College isn't just a continuation of high school. It's a chance to explore, make new friends from around the world, and choose what you want to learn.
College is what you make of it – so dream big, and enjoy the ride!
Student story: College brings new friends, learning, and freedom:

For more college application tips, check out Khan Academy college admissions site. And if you have your own tip to share, let us know below!
Madeleine Traver is the College Admissions Content Fellow at Khan Academy – a nonprofit with a mission to provide a free, world-class education for anyone, anywhere. Having recently graduated from the University of Southern California, she now helps other students achieve their college dreams.