Alex & Me's Lily Mae Silverstein – Interview with Teens Wanna Know! and Film Review
Fans of Disney XD's series Bunk'd are familiar with Lily Mae Silverstein, who plays "Lydia the Weasel" on the show. This busy teen actress also stars as "Penny" in the Nickelodeon/Warner Bros. July, 2018 release of Alex & Me starring Alex Morgan (US Women's National Soccer Team) and Siena Agudong from Star Falls and Nicky, Ricky, Dicky & Dawn on Nickelodeon.
What you might not know is that Lily is also an aspiring filmmaker, having been part of an award winning cinematic arts program at her middle school. She is also loves animals, and has collected donations and volunteered at various shelters to celebrate her birthday every year since age 5.
Lily is very cool, smart, and talented — as you will discover for yourself when you read our interview with her below. And make sure to keep scrolling all the way to the bottom to read our quick review of Alex & Me!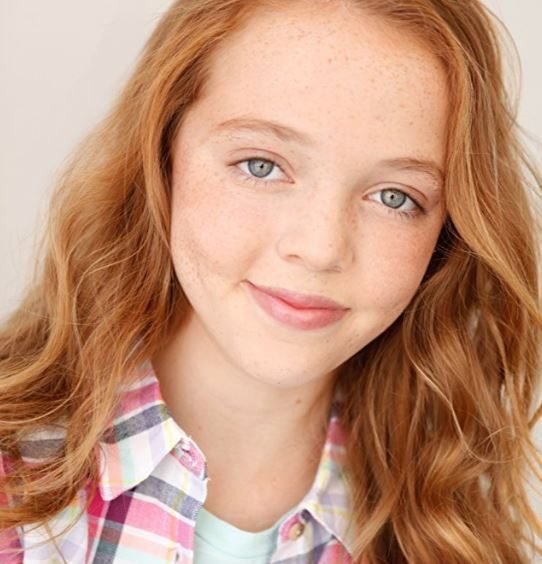 Hi Lily, thanks for taking the time to chat with us. Before we get into your role in Alex & Me starring soccer phenom Alex Morgan, tell us a little about yourself.
I have been acting for a total of 12 years now and I have to say that it truly is my "Number 1" passion. My mom was in the advertising business when she had my older brother. She took him to auditions as a baby, and then she soon did the same with me. I got my first role in a Disneyland commercial, which is a dream come true for a two year old. I have been acting ever since.
But acting is not the only passion that I have encountered. I love playing soccer, which runs in the family. I love to dance and tumble, which I am trying to combine into a love for cheerleading. I just graduated middle school 2 DAYS AGO, and am excited to move onto greater things at my high school like debate and musical theater. But nothing will stop me from going through each audition process until I find my next role.
Alex & Me comes out June 12thon digital and June 19th on DVD + Blu-Ray. Tell me about your character and why you think teens should watch this movie.
I play Penny in this movie–a fierce and fabulous character. She may not be the best soccer player at first, but definitely knows how to boss others around. Although she can be seen as quite demanding, she really wants what's best for the team and won't let any opponent get in her way. We just recently saw the world-premier of the film and I was ecstatic with the finished product.
Alex & Me is an empowering film showing that girls can do anything they put their minds to. We need more women role models and I know you can find some in this movie. It truly is a movie inspired by family and love, which is something I have found with the cast mates. Just remember that girls can do anything they want with hard work and some help from family.
Were you a soccer player before this film? If so, tell me about about it (favorite position, years played, etc).
Yes, I was a soccer player before this film and still am. I'm not going to flatter myself, because my dad gave me hints about how my soccer playing wasn't to his liking in the film. [lol, dads will be dads – Ed.] But, Soccer has been a part of my life from a very young age. My dad was born and raised in Switzerland where soccer is extremely popular. Being a soccer player himself definitely put some ideas in my head from a young age.
I love playing forward, but usually find myself in a defense position. I even found a love for playing goalie on set. Whenever anyone would want to practice shots on goal in between scenes, I would try to run into the goal first to play goalie. I believe I have been playing soccer on and off for about 10 years now and I hope to continue.
What was your on-set soccer training like for this movie?
The soccer training was really great. We had an onset coach to help with specific moves for specific shots and warming up, Stephen "Macca" McAnespie. He also orchestrated a lot of the soccer games. He'd tell us where to run so we could make the shot for the camera. He was really great and we had a lot of fun scrimmaging games for the film. We also had a small basketball court at our hotel. We would kick soccer balls around after our daily wrap. It was usually just six girls practicing their shots for hours. This is just one of the ways that us girls got really close.
Did you fan-girl when you met Alex Morgan, or was it a pretty chill moment?
Meeting Alex Morgan was surprisingly a super chill moment. Reagen Champanella, (who plays Bug in the film and was the inspiration for the script) ran over and said she just met Alex Morgan! She took me and a few other girls over and introduced us. We said our hellos and Alex was so nice. I was even able to show her a picture of a girl on my soccer team who dressed up in her jersey for Halloween. It was a normal introduction to such a sweet person.
With that said, I nearly freaked out when meeting Jerry Trainor. I shook his hand and melted in the fact that I was such a huge fan. I told him that I met Nathan Kress when working on Henry Danger and he said that he actually visited Nathan the day that I was working!!! I definitely did not play it cool.
Who did you hang out with most on set?
The movie surrounds a team called the Breakaways. So, every scene involved the team. There were 5 soccer-playing actors and 6 girls from New Orleans that were on a real soccer team. The girls from New Orleans were really great. They invited us to hang out and they really taught us about the city—what to do and where to hang out. They invited us to come back for Mardi Gras. My family and I are considering it for next year! In conclusion, we were one big family that played around and had fun everyday.
You've got some directing chops, right? Do you think you will lean more towards filmmaking or acting as you grow older?
For the past three years, I was apart of the Cinematic Arts Academy at my middle school and made many films throughout the years. There have been major flops and successes that have helped me learn what it's like to be in the industry. My filmmaking has helped me tremendously as an actress because I am more aware with what I like and dislike from actors and actresses in my films. I am very intrigued by the world of stop motion and would love to make more of those films. In other words, I hope to continue acting and filmmaking for as long as I have the time and energy to do both.
Tell me something people would be surprised to know about you.
I have extremely flexible joints. I can dislocate my shoulder and put my feet behind my head. [woah – Ed.]
Biggest pet peeve?
When peers discredit your feelings like they are not important.
Favorite book?
"The Outsiders" by my favorite author S.E. Hinton. Since "The Outsiders" I have gone on to read every other book that she has written and have loved them so much as they continued to inspire me to write my own some day.
Favorite musical artist?
Although I love pop music, I am more of a theater gal. Some of my favorite musicals include "Dear Evan Hansen" and "Something Rotten." I have seen both on Broadway and will never stop listening to their soundtracks!!!
Favorite movie?
My favorite movie is Deadpool because it is so funny and it stars my dream husband, Ryan Reynolds. Furthermore, I recently saw Deadpool 2, opening night, and may have shed a tear.
Most embarrassing moment you wish you could do over?
When I was around the age of 8, I went in for a role for the show Jessie. While I was waiting for the lady to call me in, I was playing around on my mom's phone. When I got into the room, I was unprepared and forgot all of my lines. The lady sent me out to get my script and I was crying to my mom. But, the casting director was understanding and gave me another chance with script in hand.
I surprisingly got a callback! But, I am glad that I didn't get the role because who knows if I would have gotten on Bunk'd. I also have learned a valuable lesson to this day. Before an audition, you will rarely find me on my phone. You will find me constantly reviewing my lines to be prepared for any changes in the room. That was an embarrassing moment, but a moment that I would not want to do over.
What do you have coming up next?
I recently was in an episode of Walk the Prank that I am excited to watch. I am also excited for Bunk'd season 3; where you might encounter a certain familiar character "Weasel."
Could we get a selfie of whatever you are doing at the moment? Its something we do for the fans!
-Here is a cringey bathroom selfie-
I took this because my bathroom has good lighting and I am just at home watching movies with my family after a long day of learning lines for an audition. This is my average day, but something I enjoy very much.
Follow Lily here:
https://www.instagram.com/lilymaesilverstein/
https://twitter.com/lilymaesilver
https://www.facebook.com/LilyMaeSilverstein/
Alex & Me Film Review
Siena Agudong plays Reagan, an aspiring soccer player whose parents ignore her soccer dreams in favor of supporting her older brother's football career. "I'm going to go move to Alaska and join a cult!" she says to her parents, played by Chuti Tiu and Jim Klock, who are so focused on their son's college scholarship prospects that they remain oblivious to her proclamation — and her request for a ride to soccer tryouts.
After getting to tryouts on a broken bicycle, Reagan fails to impress the coach of the number one team. Dejected, she throws a tantrum in her bedroom and tries to rip down a poster of her hero, USWNT star Alex Morgan — only to slip off her chair, whack her head on the hard edge of a shelf, and pass out. Shorty then starts trippin' – she is literally woken up by a hallucination of Alex Morgan herself, who dips from the poster and pops up in the flesh to motivate Reagan back on track like a soccer fairy godmother.
Reagan joins a team of girls who've gotten cut from other teams and, thanks to Morgan, helps turn it around despite many challenges. The moral of the story is to keep pushing and to work hard, and the movie does a good job at delivering the message while also being humurous.
The movie is full of characters and situations anyone who has participated in youth soccer will recognize: mean coaches, beer-bellied refs, the coach who people think is a soccer expert just because he's British, working on whatever crappy practice fields you can scrape up, grass allergies, after-game ice cream, parents who yell at their kids while they are playing, and more. The movie probably captures what its like to play AYSO and youth club soccer in America better than any film to date.
There are some inexplicable moments though. Reagans's best friend at school somehow fails to go to any of her games, and a budding relationship with a boy never really goes anywhere (he doesn't show up to cheer her on either, for example). And the storyline about a "fake" coach is kind of silly, especially since the character played by Jerry Trainor just kinds of disappears despite being the funniest in the film. As of this writing, Trainor's name doesn't even appear on the cast list for the film on IMDB! It's like he showed up one day, hammed it up on set for a few hours, and then split — strange for an actor very well known to Nickelodeon fans from Drake and Josh and iCarly — his part could have been bigger or at least brought back at some point.
Production quality on the film isn't superb. In some scenes, the handheld camera work and insufficient lighting on actor's faces were distracting, and some shots needed better focus. But I am just being nitpicky. As far as the acting — well, Alex Morgan is not a pro actor, but she is likable enough to get away with it in this movie. Everyone else does an adequate job being "Disney-ish," which is fine since this film is for that demographic.
Final opinion: If you are older, this movie is not for you unless you are a hardcore Alex Morgan fan. But if you play youth soccer, you are probably going to enjoy it!
Overall rating: 6 out of 10.
p.s. I feel sorry for any future soccer player who has the misfortune of being named Natalie Gunderson. Major shade thrown, bro.