5 Fast Facts about singer-songwriter and actress Serena Laurel
Serena Laurel is a singer-songwriter and actress best known for the lead role as "Lucy" in the feature film Summertime Dropouts alongside Quinton Aaron (Blindside) and punk sensation Simple Plan. She has numerous awards, including six for Best Actress as "Georgia Dean" in the thriller Nasty Habits written and directed by Allisyn Arm (scroll down for trailer) and Best Actress by Film Fest LA Live in the Fantasy Film category for her starring role in Bird Song, a Game of Thrones fan film.
As a singer-songwriter, her style provides a blend of acoustic pop jazz. Her new single GOLD is available on iTunes, Spotify, and all popular music sites https://open.spotify.com/track/3sCdoVvVNdPMPsanAsUVJe. She has performed at venues such as Whisky GoGo, House of Blues, Roxy, The Hotel Cafe and more and is involved with several charities such as BreakingtheChainsFoundation.org A Starlight Children's Foundation and Free2Luv.org.
Serena is also a Style Icon and Patron for Runway Dubai Show "Fashion Meets Music" airing Friday November 8th, 2019. The designers are challenged to create a unique red carpet dress with the winner to be chosen by Serena Laurel and then to be worn by her at a Hollywood premiere. www.stylefevr.com https://www.runwaydubai.com
And if you'd like to catch her live, her next show is at THE HOTEL CAFE Sunday, November 24th. Ticket Link: www.hotelcafe.com/tickets
Here are 5 fast facts about Serena!
What's the dumbest comment you have received because of your red hair?
I don't know if it's the weirdest but, the most frequently asked question or comment I get is about my soul. "Do you have a soul?" Especially around Halloween, this query pops up a lot. Does a redhead have a soul? Will we ever know?
Choose one word to describe the first moment you ever stepped onto a stage to perform solo.
That word would be clarity. Of course, the first time anyone performs they are going to be nervous! The first time I performed solo wasn't a musical performance but gymnastics instead. When I was young I trained for rhythmic gymnastics. The first rhythmic competition I did was a state event with a lot of people and it was very nerve-racking. But the nerves brought all of my energy into focus. Once I started my routine all the nerves turned into excitement and then I enjoyed performing for a big crowd! That's when I realized I enjoyed the show for the audience and not the competition. Now, when I'm on stage to play a set of songs, it feels like I'm right at home! The excitement is still there but instead of being nervous, it's a feeling of clarity and peace.
Most embarrassing moment IRL?
Too many to count! I think forgetting the lyrics to your song has happened to all singer-songwriters at least once. But, the most embarrassing would be a wardrobe malfunction of my own doing. I walked on stage in a super cute jumpsuit and by the time I finished my set, I realized the side zipper was down. Fortunately, I think my guitar hid it well and I didn't know it was unzipped until the end of the show. But once I found out, I was embarrassed.
Tell me something people would be surprised to know about you.
I'm a HUGE Doctor Who fan. I dressed up like a Tardis for Halloween one year. I printed Tardis motifs and sewed them onto a circular skirt with a blue grid pattern. I've been obsessed with the show since I was 12 and haven't stopped watching! My favorite Doctor is the 10th David Tennant. I have a collection of sonic screwdrivers. Never know when you will need one:) An acting dream of mine is to be on the show someday. No matter how silly or dark I love everything about the show! Rose is by far my favorite companion hands down.
Name one song you listen to over and over.
Only one comes to mind! Nakamarra by Hiatus Kaiyote! As I am writing this I am thinking about seeing them in concert tonight! This band has inspired me so much and shaped the way I write and play music. I could listen to that song all day every day and never get tired of it! It's what I call my 'end of the world song' because it would be the last song I listen to if I got to choose.
Selfie time!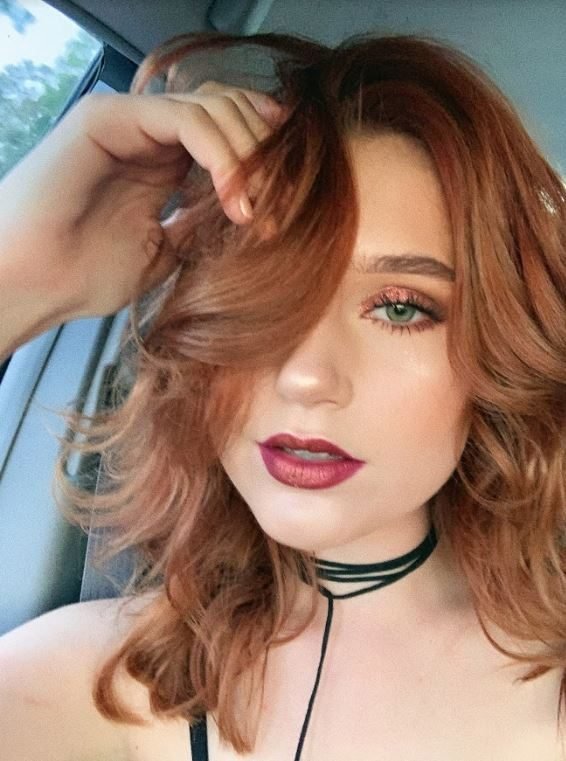 Instagram: https://www.instagram.com/serenalaurel/
IMDb: https://www.imdb.com/name/nm3481804/
Facebook: https://www.facebook.com/SerenaLaurel/
Distrokid: https://distrokid.com/hyperfollow/serenalaurel/gold
Website: https://www.serenalaurel.com
Twitter: https://twitter.com/serenalaurelwow