15 Year Old Caroline Romano Sings for National Bullying Prevention Month
Singer and songwriter Caroline Romano, while just beginning her career, has already performed alongside the likes of Shawn Mendes, Kelsea Ballerina, Frankie Ballard and Daya.
Despite her achievements, Caroline is just like any other teenage girl, capable of insecurities and body image worries. This is reflected in her latest song "Inside" from her recently released EP "Hashtag."
Just in time for National Bullying Prevention Awareness Month–October, the song deals with her struggles with bullying and for self-acceptance, and is being promoted by PACER as part of their National Bullying Prevention campaign.
Above: Caroline Romano; credit: Gregg Roth
"It's basically the story of the struggles I've faced with body image and bullying. There was a point in my life where I changed everything about myself in order to meet other people's standards of 'beauty.' I felt completely overlooked-simply because I wasn't 'pretty' enough. I thought no boy would ever like me and no girl would be friends with me unless I looked a certain way. I believed all of the lies.
"One day, I came to the realization that I wasn't defined by what I looked like," she goes on. "The real me was on the inside. Dress sizes, compliments, and meeting certain standards don't make people happy. The happiest people are who they are. I wrote this song after experiencing that epiphany. I want to share this and encourage everyone to stop believing the lies."
While the song has a message we have all heard before, it is the polished production and Caroline's delivery that make it stand out. She has a powerful, mature voice — and in the music video below you can see that she is a lot more interesting then the cookie cutter pop-stars the music industry loves to create and promote until they quickly burn out. There is something very genuine about her which we really like, and think you will too. She deserves a much bigger audience!
https://www.youtube.com/watch?v=0LMuAJg8GWY
"Inside" has already begun to resonate with listeners everywhere, including fans overseas. Since going to radio, it debuted at #26 on the International Pop Chart and reached #11 on Algoa FM radio in South Africa.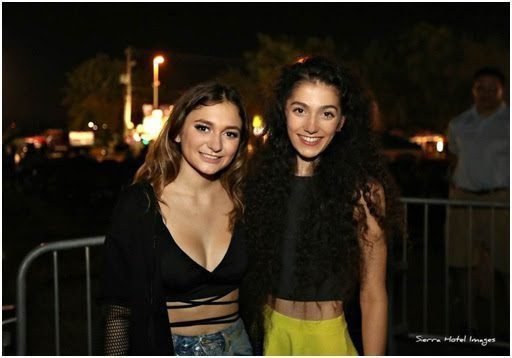 Above: Caroline Romano with Daya (left) following their performance at
Delta Fair and Music Festival
Credit: Lawrence Hsia
A full-length debut from Caroline is due in 2017 — follow her on her social media and website for news on its release!
For more information on PACER, visit: