Summer Beach Swag Giveaway with Jessica Robertson, Pedi Princess, Red Water Designs and My Beads!
Summer is officially here…YAY!
Of course, that means we have stuff to give away from some great brands…DOUBLE YAY! While we are getting some stuff together for the guys for another giveaway, this one is perfect for any teen girl who wants to add some pizzazz to her personal style this beach season.
Let's check out what is included in our giveaway:
First up, we have some beauty items from the Jessica Robertson Collection (of Duck Dynasty fame) by Podz Eyewear and Dr. Sun Rx:
Jessica Robertson Collection Sunglasses – Find your own signature style in Jessica's handpicked Sunglass Collection. These fresh, on-trend shades are available in black, red and brown and will keep you looking cool in the heat. $12.00 at your favorite local tanning salon. Our lucky winner will get the red pair, as shown above
Jessica Robertson Collection Facial Bronzing Powder – Keep your tan luminous and your skin glowing with this 3-in-1 bronzer that has just the right amount of color and moisture in its unique formula. This tinted powder gives sheer, natural-looking color while being skin-conditioning providing a smooth, never splotchy application. The natural tint works for all skin types and is ideal for enhancing a skin tone or strengthening and prolonging a tan. $20.00 at www.drsuncosmetics.com or your favorite local tanning salon. Our winner will receive one bronzer pack
Jessica Robertson Collection Lip Gloss – Look polished even while sunning and swimming with pout-perfecting lip glosses. Available in 6 luscious colors: Cherry Red, Berry, Nude, Peach Mango, Iced Mocha and Cotton Candy. Why not get one of each? $7.00 at your favorite local tanning salon. Our winner will get ONE OF EACH lip gloss–the entire set!
Now that we have covered the face…its time to move onto the feet. The next piece in our giveaway is a pair of Pedi Princess flip flops!
Fashion and interior designer Laura Slipak grew tired of waiting around for her pedicure to dry and smudging her fresh polish. This sparked an idea; to create a cute flip flop with built in toe separators that were fashionable and comfy enough to wear inside and out. Pedi Princess was born! Gone are the days of hobbling out of the nail salon with uncomfortable tissue paper jammed between your toes, or wearing rubbery toe separators that are destined to be in a landfill for centuries. Now there is a designer flip flop that saves your pedicure, the environment AND your time. Just slip on your flip flops, polish your toe nails and go!
Available in XS (3-4-perfect for girls!), S(5-6), M(6.5-7.5), L(8-9), XL( 9.5-10.5)
Come in a variety of eye-catching patterns and colors
Adorned with a blingy rhinestone at the straps and each toe separator
Pedi Princess is available at wholesale prices or can be purchased for $15-$20 online at www.pediprincess.com. One word of caution…they run small, so order one size bigger than your actual foot size. They are also available in select boutiques, hair salons, nail salons and gift shops around the country. Our winner will receive one pair, size 5-6 (for small feet).
Now that we've got your face and feet ready for summer, how about a little bling for your wrist? The next item in our giveaway is a beautiful piece from The Elements Collection by Red Water Designs.
Sometimes a bracelet isn't just a bracelet, it is a message, a spiritual token, a healing agent. Red Water Designs combines the beauty and ethereal quality of natural gemstones with their deeper meaning in The Elements Collection — jewelry that focuses on the 4 Elements: Earth, Fire, Water, and Air.
Each piece in the Elements Collection focuses on a key element and comes with a card detailing the personality trait and healing properties associated with the element and stones, making it the perfect gift for anyone on your list. Need a gift for a new graduate? An Air Element Bracelet will inspire them to be positive and adaptable as they go out into the world. Would you like to get a special gift for the mom in your life? A Water Element bracelet will let her know you value her generosity and trust.
Since each piece comes with a detailed card about both the element and gemstone featured in the piece, you provide a story with your gift that will be valued as much as the beautiful jewelry design.
Red Water Designs was created out of a desire to see jewelry that is based on simplicity. Hailing from the once jewelry capital of the US– Rhode Island,Red Water Designs is a fashionable line that is straightforward as well as spiritual in their approach. By capturing the beauty and power of the 4 Elements into their jewelry, each design brings simplicity and well being into the everyday.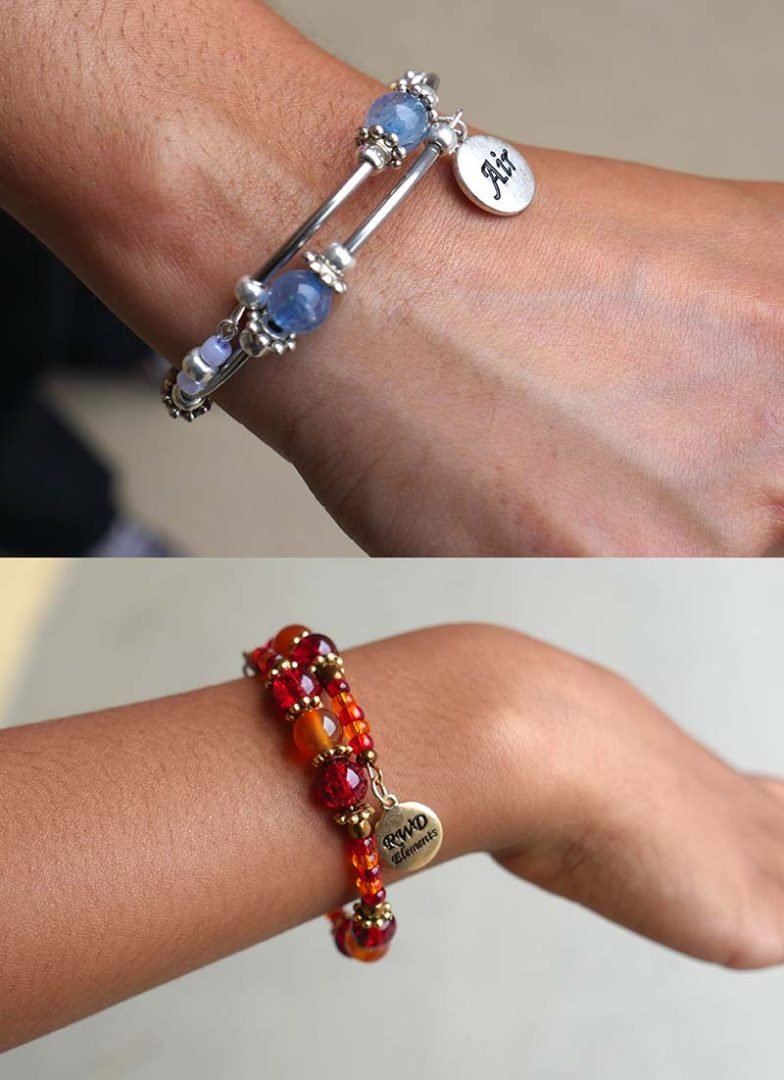 Finally, we take care of your ears with a new way to stop your headphones from getting tangled.
My Beads has created a creative and stylish way to decorate your headphones while also preventing them from getting snarled up. You can create a pattern with your favorite colors or even your school colors. Each bag contains a whopping 500 beads, which are a breeze to apply to your headphone cord. Our winner will receive one bag of My Beads for free!
SPECIAL DISCOUNT FOR TWK READERS: ENTER CODE VG5NENB8 AND GET 10% OFF YOUR PURCHASE when ordering from MyBeadsUSA.com!
So to sum up, here is what our winner will get (the exact items are pictured below):
1. A pair of Pedi Princess flip flops (size 5-6)
2. One Red Water Designs bracelet ("Air")
3. One bag of 500 My Beads for your headphones
4. Jessica Robertson Collection Sunglasses
5. Jessica Robertson Collection Lip Gloss Set (6 total)
6. Jessica Robertson Collection Bronzer
How to enter:
1. Follow @teenswannaknow on Instagram
2. Post a pic of your favorite thing about summer. You can enter more than once and increase your chances of winning–each different picture counts as an entry!
3. Mention @teenswannaknow in your description and use the hashtag #TWKgiveaway in each picture posted
4. Winner will be DM'd once selected, and must reply within 48 hours with a mailing address
5. Contest open only to those residing within the United States, as we will only ship to US addresses.
We will pick one random winner from all entries received by 11:59 PM on Thursday July 2nd, 2015. SIMPLE! We'll also follow you back if you enter and follow all the rules.